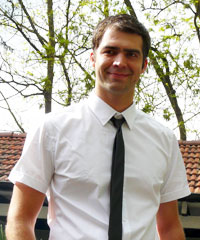 Timo Wagner
Qualified industrial mechanic Timo Wagner from Freiburg is the managing director of WATEC GmbH. Thanks to his extensive experience in the development and machining of mechanical components for the medical and electrical engineering sectors, WATEC has also been able to establish itself as a reliable provider of solutions in these fields.
During his free time, Timo is a passionate youth volleyball coach.
Adress
WATEC GmbH
Reutener Str. 15
79279 Vörstetten

phone: +49 (0) 76 66 - 88 01 46
fax: +49 (0) 76 66 - 88 01 48
eMail: info@watec-zerspanung.de

Copyright
Copyright ©
WATEC GmbH
Vörstetten

All rights reserved!